Navigation and tracking of dogs in one
Pair With Selected Garmin Dog GPS Systems To Navigate And Track Your Dogs From Your Car
Get amazing off-road navigation with pre-loaded Recreation Map Europe and a 1-year subscription to BirdsEye Satellite Images
Detailed Europe Roadmap on a bright 6.95 "display
Wi-Fi® connection for easy map updates and software
Bluetooth® Handsfree Calling Technology¹ and Voice-activated Navigation

Track your dogs with Garmin DriveTrack 71 GPS navigation for off-road and off-road navigation with enhanced connectivity. Connect it wirelessly to selected Garmin GPS systems for dogs. See it all on a vivid 6.95 "display, including pre-loaded Recreation Map Europe and a 1-year subscription to BirdsEye Satellite Images.
See where your dogs are
Synchronize your Garmin DriveTrack navigator with selected Garmin GPS dog systems to help track your dogs on the field. You will see markers for each dog plotted on topographic contours or BirdsEye satellite images on the large GPS display. Guiding signs help you easily track and find every dog ​​you follow. In addition, for travel on roads or highways, the device combines built-in Bluetooth with driver signals, voice-activated navigation, maps and traffic, and more.

Smart connectivity
When you sync your Bluetooth smartphone with the Garmin DriveTrack 71, you get great features that let you stay connected without getting your hands off the wheel. Make hands-free calls and receive personalized smart notifications on your browser's display. View your incoming calls, text messages, and calendar reminders without having to deal with your phone.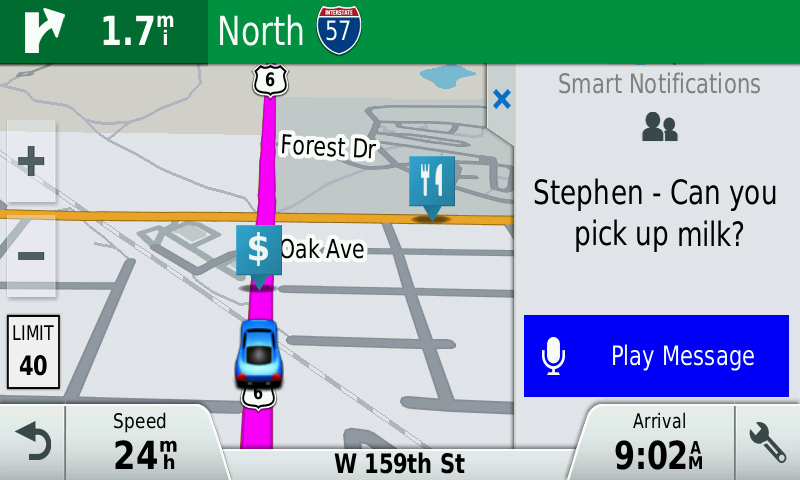 Live services
Overcome congestion with alternative routes that save time. Then, with live information, spend less time touring the building to search for parking. For traffic alerts, appropriate forwarding directions, and up-to-date weather forecasts, download the Smartphone Link app, which connects your Garmin DriveTrack to your compatible smartphone. While you're near your destination, avoid the stress of parking by reviewing the prices and availability of public street parking. The Smartphone Link app also enables the LiveTrack feature, which allows drivers to share their location so your friends can track your location, whether you're in the city or traveling long distances.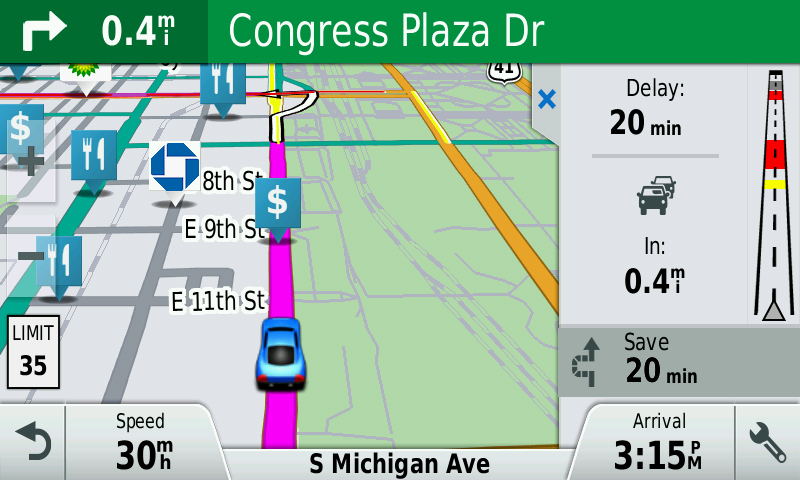 More navigation from your Garmin Smartwatch
When you pair this navigator with your compatible Garmin smart watch (sold separately), you can get navigation right on your wrist, even after you have parked your car and walked to your destination. You also get helpful alerts for your watch driver. Don't worry about losing your car in a crowded parking lot; smart watch gives you compass guidance from your parked vehicle to your destination - and back to your car
Travels got better with TripAdvisor®
When you are unfamiliar with the area, it is nice to have something to point you in the right direction. That's why we provided TripAdvisor on the Garmin DriveTrack navigator. See ratings for travel points, such as hotels, restaurants and landmarks, on your itinerary or near your destination. From the largest travel site in the world right in your car, we help you find the stops that make your entire trip part of the destination. Also discover new attractions with the built-in trip planning tool that adds to travel fun by offering interesting stops along the way.

If you want to install a detailed road and offroad map of Bulgaria OFRM Geotrade, you can add it to your order from the Maps section of WWW.GARMIN.BG